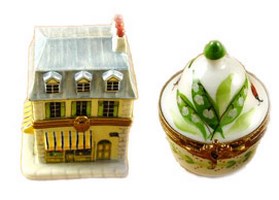 Traditional Styles with Bottles
During the late 1970s, Limoges boxes started to be introduced with an idea of finding surprise inside the box. The originals designs featured a perfume bottle inside an egg, followed by a tiny chest that opened to reveal two perfume bottles with faux pearls on top. Variations on the theme included an egg and a heart, both containing a single perfume bottle with a faux pearl. These pieces makes a great gift or additional to any collection.
Sort By:
Min price:
Max price:
Items per page:
H: 1.00" W: 2.50" L: 2.00"

H: 2.00" W: 1.25" L: 1.25"

H: 1.50" W: 1.25" L: 2.00"

Width: 2.50"
Sort By:
Min price:
Max price:
Items per page: