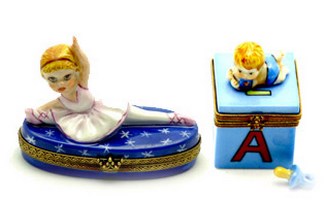 Baby and Children
This is selection of elegant porcelain Limoges Boxes having themes that celebrate important events you may share with your child. Includes Teddy Bears, Baby Book, Alice in Wonderland, Slice Cake on First Birthday, etc. Will catch the attention of everyone.
Sort By:
Min price:
Max price:
Items per page:
H: 2.50" W: 1.75" L: 2.75"

H: 2.75" W: 1.75" L: 3.50"

H: 2.75" W: 1.75" L: 2.75"
Sort By:
Min price:
Max price:
Items per page: