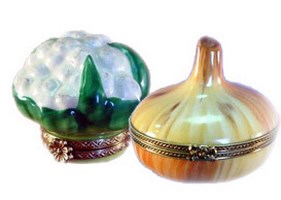 Fruits and Vegetables
This is selection of elegant porcelain Limoges Boxes having mouth-watering themes that feature your culinary favorites. Includes Vegetable Garden, Tropical Fruit Basket, Tomatoes and Peapods, Orange Jam, etc. These look good enough to eat!Beautiful Fruits and Vegetables Limoges porcelain hand made in Limoges, France.
Sort By:
Min price:
Max price:
Items per page:
Width: 1.50"

H: 3.00" W: 2.00" L: 2.00"
Sort By:
Min price:
Max price:
Items per page: