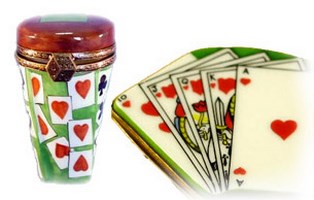 Games
This is selection of elegant porcelain Limoges Boxes that display your favorite games. Includes Slot Machine, Bingo Game, Black Roulette Wheel, Royal Flush Hand, etc. These make excellent gifts for the gamer in your life, or consider as a prize for contest participants.Beautiful Games limoges porcelain hand made in Limoges, France.
Sort By:
Min price:
Max price:
Items per page:
Width: 2.50" Length: 2.50"

Width: 2.00" Length: 2.25"

Width: 2.00" Length: 2.50"

H: 2.50" W: 1.50" L: 2.00"

H: 0.50" W: 3.00" L: 3.00"

H: 0.75" W: 1.75" L: 2.75"

Width: 1.25"
Sort By:
Min price:
Max price:
Items per page: