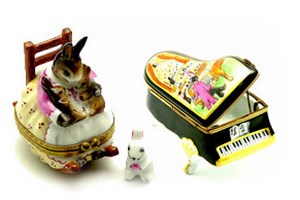 Music
This is selection of stunning porcelain Limoges Boxes having themes that feature musical instruments. Includes Black Piano beautifully decorated with musical notes and flowers, Trumpeter with case- Jazz, etc. This is a beautiful example of Limoges boxes at its finest and charming addition to your collection. Music limoges porcelain hand made in Limoges, France.
Sort By:
Min price:
Max price:
Items per page:
H: 1.00" W: 1.50" L: 4.00"

H: 2.00" W: 2.25" L: 3.50"

H: 0.75" W: 1.25" L: 3.00"

H: 0.50" W: 1.25" L: 3.50"
Sort By:
Min price:
Max price:
Items per page: